Starry Night: Ring in the New Year with a Star-Studded Celebration
A few weeks ago, Travel + Leisure magazine released a list of "The Best Places to Travel in December" and Los Cabos appeared among them; it's one of Mexico's most popular destinations and receives thousands of national and international tourists every year. It's also a favorite vacation spot and place to live for a number of public figures.
Los Cabos is preparing a large range of events to ring in 2017; hotels, bars, clubs and restaurants are organizing glamorous parties. One of the ones that really caught my eye is Starry Night.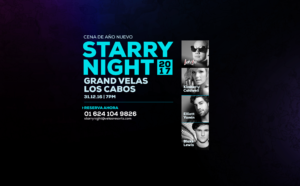 Grand Velas Los Cabos, a new resort open to the public starting December 20, visualized a night full of stars – not just with the singers and DJ, but by the feeling of gazing at a sky full of stars, as the party will be held on the Terraza del Mar, an open-air venue which is the region's largest of its kind. Its main highlights are its panoramic views of the sea and sky.
A night full of music, headlined by:
Kimberly Caldwell
Elliott Yamin
Blake Lewis
DJ Lucky Lou
There will be two menus: the first with dishes ranging from an Alaskan crab timbale, to bogavante lobster bisque, rack of New Zealand lamb and pan-seared Chilean sea bass. The second is vegetarian, with dishes such as a frisée salad, pumpkin soup with chestnut won ton and grilled portobello medallions.
The price per person is $350 dollars, but if you reserve by December 30th it's $300 dollars; guest of the resort receive a special rate.
To learn more about Grand Velas Los Cabos, visit www.loscabos.grandvelas.com.
For more information or to reserve, send contact starrynight@velasresorts.com, or call 01-624-104-9826.
Comments
comments