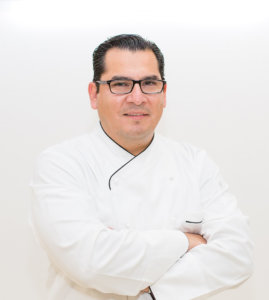 Cabo San Lucas, Mexico – Juan Licerio Alcala has been named Executive Chef of the new Grand Velas Los Cabos, the fifth property of the family owned and operated Velas Resorts opening in late 2016. In his new position, he is responsible for the "Beyond AllInclusive, Beyond All Compare" resort's highly anticipated gourmet specialty restaurants with food, creativity and presentation comparable to that of top restaurants in world capitals. These include Cocina de Autor, the resort's signature restaurant; Frida, offering Mexican fine dining; Piaf, which serves gourmet French specialties; and Lucca, with a menu of traditional Italian cuisine. In all, he will oversee six restaurants, multiple bars, and the catering operation of the 306 all-suite, uber luxury resort. The appointment is effective immediately.
With over two decades of successful experience, Licerio's culinary skills are international ranging from Mexican, Italian, American, French, and Spanish to Indian, Middle Eastern, Caribbean, Latin, Asian, and Thai. He has also spent time honing his skills in molecular gastronomy and healthy lifestyle cuisines tailored to specific diet-dependent conditions such as diabetes, heart disease and gluten-free, as well as unique dietary preferences including macrobiotic, raw and vegan diets. Most recently, he served as executive chef of the Princess Mundo Imperial in Acapulco and, immediately prior, the Pelican Hill in Newport Beach. Licerio has also spent time managing and working in food & beverage for Four Seasons, Fairmont, Capella, and Ritz Carlton throughout the US and Mexico. He is originally from Durango, México.
For reservations or additional l information, please call 1-888-407-4869 or visit www.grandvelas.com.
Comments
comments