Los Cabos is one of the five municipalities of Baja California Sur state, and one of the most popular tourist destinations in the area. Its privileged location distinguishes from other Marinas. Here you can enjoy many activities like, camel ride through the desert or snorkeling in the clear waters.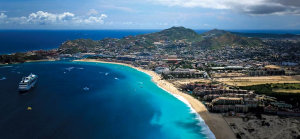 Where is Los Cabos? It is located exactly at the end of the peninsula of Baja California, the southern tip of the state; this destination is commonly known as "the end of the earth", as it is the last piece of land in the Peninsula of Baja California and the next solid ground stop, if you drew an imaginary line to the south, would be Antarctica (+6,700 mi away). The coastal area comprises San Jose del Cabo and Cabo San Lucas, among them there is a 33 kilometer corridor connecting them.
On one side you find the sea; the waters of the beaches are amazing and crystalline, perfect to perform a great variety of activities, such as a tour learning more about the flora and fauna of the area; On the other side, the desert. This mixture of sceneries makes a perfect climate and a surreal combination of contrasts in colors.
Transportation to this wonderful place is very flexible and convenient, and you can make arrangements to get by car, cruise, or plane -Los Cabos International Airport, has many airlines flying to the destination at many different schedules.
Now that you know, where is Los Cabos, prepare your baggage and fly to this destination.
Comments
comments