Top 6 Places to see and shop for Mexican Art in Los Cabos
Mexican deep-rooted cultures have long been showcased through its flavors, color, religion, but also by their art. Many stories have been told through various art creations that are now internationally celebrated masterpieces and which have impacted the lives of many.
Cabo San Lucas and San José del Cabo are anchored on the peak of Mexico's Baja Peninsula. Widely acknowledged and treasured for its golden sand beaches, fresh waters and striking arching stone cliffs at Land's End which have become the backdrop for Baja's picturesque scene.
The ideal getaway for most nature enthusiasts, adventure lovers, relaxation seekers and even the party goers looking to have the night of their lives. But something that may not always be at the forefront of your travel plans or itinerary may be indulging in a Mexican art venture.
Here are the top 6 places where you will find the best Mexican art that you do not want to miss on your next visit to Los Cabos!
In San Jose del Cabo's flourishing Art District, in one of the town's most historic residences, you'll find Casa Dahlia Gallery. This local gallery delivers a distinguishing blend of gleaming contemporary art. Casa Dahlia has featured the work of a number of Baja's top modern artists. You can find paintings and sculpture ranging in styles from Abstract Expressionism, Naive Folk Art, to minimal Color field involving material such as bronze, resin, oil, acrylic, and mixed media collage.
Just a few blocks from the heart of San Jose, located in the midst of the Art District you'll come across "El Armario" or also known as "the cutest shop in Town", which offers a unique selection of Mexican folk art from every region of the country. Pottery, ceramic, candles, clay figurines, paper – mache are just a few of the materials and tools involved in each master creation. You can choose from original paintings, Mexican pottery, woodwork, sculptures, embroidery art and more.
Fodor's travel guide calls Frank Arnold Gallery, arguably "the best gallery space in town". Frank Arnold's dramatic, widely acclaimed contemporary paintings have been called universal, yet personal. The Gallery features original oil paintings, bronze sculptures and fine art prints.  Arnold has exhibited in multiple galleries and museums throughout The United States and Mexico and is in corporate and private collections worldwide. You can also stumble upon Frank Arnold's gallery in the heart of the Art District, a definite delight.
Corsica Gallery main focus is in figurative and abstract paintings and sculptures. It features the talents of internationally renowned masters such as Manuel Felgurez, José Luis Cuevas, and Juan Soriano, as well as a variety of younger artists who show extraordinary talent and promise.  Galeria Corsica opened its doors in San Jose del Cabo in 2005 and has been an art gallery that changed the face of Art in this Town specializing in only Top Mexican Art that shows great respect and love they have for Art.
Settled behind San Jose del Cabo's historic main square and church lies the rapid-growing Gallery District, which in current years has shifted the cultural center of Los Cabos with various high-end fine art galleries displaying original paintings, sculpture, photography, prints and jewelry by local, national and international contemporary artists.
The district is the result of the collaboration of 14 major galleries found in the area, they focus on creating an inspiring atmosphere for visitors and locals alike. The Gallery district is the ideal choice for travelers seeking to enjoy a traditionally infused meal, a fine glass of wine, live music, and of course remarkable artwork.  The Art Walk takes place from 5-9 pm, every Thursday night, and runs from October through June.
A place that many may disregard for showcasing Mexican art is Grand Velas Los Cabos. Found along the luxury corridor between Cabo San Lucas and San Jose del Cabo, this resort features tiered architecture with an iconic, open-air entrance over 300 ft. above sea level. It's a masterpiece in itself, featuring contemporary Mexican finishes inspired by traditional Mexican architecture, a signature of Grand Velas Resorts, interiors, furnishings, and decoration in the lobby will captivate you from the start.
In addition to its artful architecture, Grand Velas Los Cabos also features various art pieces in its art boutique that highlight the works of Mauricio Soria, a renowned artist from Mexico City known for his handmade sculpture classics exhibited throughout Mexico, Spain and the US.
You'll also find locally crafted art pieces such as Raku pottery art, handmade bracelets from Mexico, embroidery art, Mexican art, Ceramic art pieces and even clothing pieces inspired by Mexico's traditional cultures each with unique finishes from brands such as Agua D Mar ,Onora, Memoria Mexicana, Chamuchic, and Denisse Kuri. Astonishingly every piece of art undergoes a complex method that has been passed down from previous generations that are now acknowledged in Mexico's signature art displays.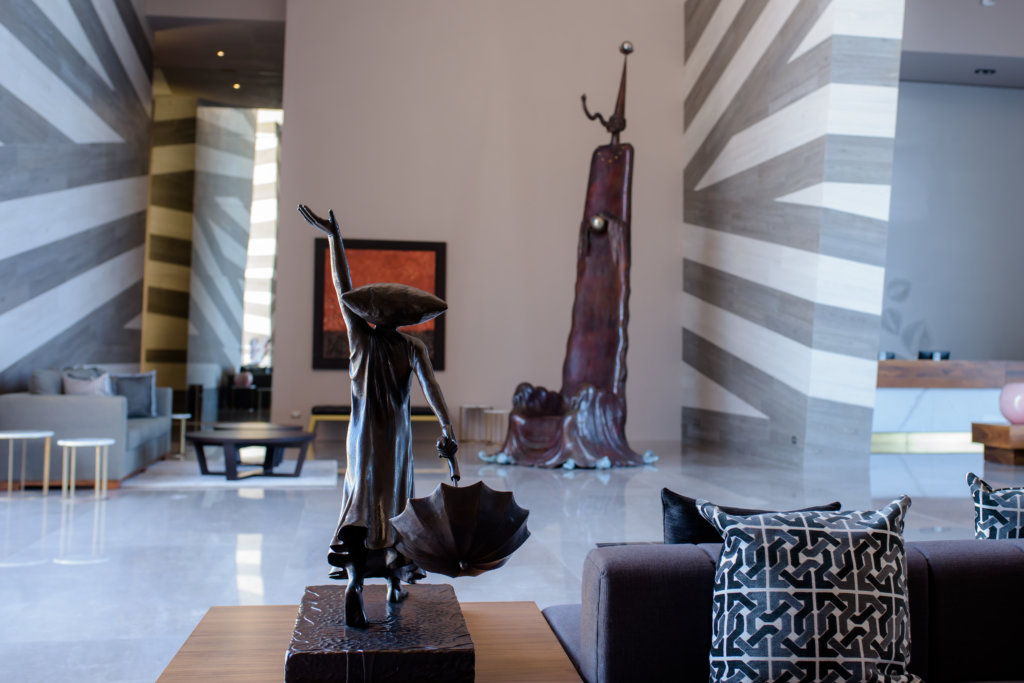 You'll soon come to the conclusion that Mexico's culture goes beyond just a getaway to a luxury resort or Airbnb but the talents and efforts put forth in its culture through its cuisine, way of living and most of all its art.
So on your next trip to Los Cabos, don't forget to stop by and admire the work, love, and dedication that is injected into each piece of art.
By Omar Jiménez
Comments
comments