Top 4 | Things we love about Summer at Grand Velas
Being the best resort in the region, (and the No. 6th most popular All-Inclusive hotel in the world!) according to the opinion of travelers who share their reviews on TripAdvisor, there are hundreds of reasons to plan a summer packed of fun with Grand Velas Los Cabos' activities, which you will want to repeat more than once. Not only is the service is exceptional; the suites are charming and the cuisine spectacular, but this is one of the few hotels with kids activities. Grand Velas Los Cabos All-Inclusive features an oasis of fun and recreation in each of its activities that will keep your spirit of adventurer on alert, regardless of age or style in which you travel.
Family Fun
Picnic parties are the enchantment of children and adults with circus and magic acts, as well as juggling and acrobatics shows. Engage in volleyball tournaments on the golden sand and create the most towering castle. Entire families enjoy live pirate shows, Mexican fairs or movies under the stars with popcorn, snacks, and sweets.
To spark creativity
The little ones put their creativity to work during t-shirt design workshops, puppet and piñata making, and seashell decorating. Their inner artist is charmed with painting classes using chalk. Also, their sense of curiosity will be put to the test when making their own ice cream in a fun and unusual way. 
And since cooking is a purely creative deed, Grand Velas Los Cabos's activities are designed for young children to play chefs for a day while you grasp the secrets of acclaimed chefs as you expand your cookbook.
On the other hand, innovative Graffiti workshops led by a local muralist opens the chance for teenagers to get creative.

To delight the senses
Its world-class spa is a sanctuary dedicated to wellness with a complete hydrothermal circuit termed "Water Ceremony" that takes the body through seven stations using different states and temperatures of this renovating element to receive the benefits of your chosen treatment. Cleanse your body with a collection of facials, massages and ancestral rituals. No wonder this Spa was named "One of the best places to fulfill your New Year's resolutions" by Forbes just one year after its opening.
It also has an Atelier Spa where you can learn more about the secrets for facial care, elaborate mandalas with flower petals and prepare your own exfoliations or aromatherapy fragrances.

World of sybarite and wellness
Start the day by connecting with your body during Vinyasa, Hatha Yoga or Pilate classes by the sea and complement the routine with the healthy choices from Azul restaurant, the most extensive buffet bar you can imagine. Explore the sommelier in you during certified wine or tequila classes, tour the kitchens of the out-of-series restaurants or perfect your moves on the dance floor during dance classes.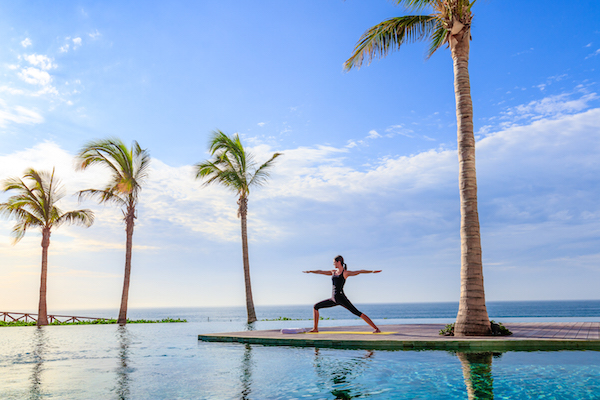 The Grand Velas Los Cabos' activities are All-Inclusive and we are certain you will not get tired of enjoying them with your family, as a couple or with friends. Happy travels!
by Vanessa Martínez del Río
Comments
comments