An Underwater Wonder! Discover the Sand Falls of Los Cabos
Los Cabos is a destination full of natural beauty, and I have fallen in love with its sea-desert ecosystems. Here I invite you to immerse yourself in an incredible adventure and discover the sand cascades in the bay of Cabo San Lucas.
What is a sand fall and how is it formed?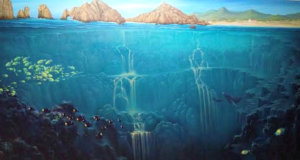 This is a phenomenon that can be observed in very few places. It is formed by the friction between the tectonic plates of North America and the Pacific, combined with the union of the warm waters of the Pacific Ocean and Sea of Cortez.
This natural wonder is located inside the Los Cabos Wildlife Protection Area, founded in November 1973. It measures approximately 4000 hectares, of which only 5% is land surface; the rest is marine. The area also houses the region's emblematic Arcos.
To see the sand cascade, you must dive to a depth of over 30 meters, where you can also observe impressive marine biodiversity, including fish of all shapes and colors and black corals.
Historic fact:
The first time the cascades were reported was in 1959, during an expedition directed by F. P. Shepard.
The sand falls are something you have to see for yourself in order to understand how impressive they really are. I invite you to visit Los Cabos and make a stop in Cabo San Lucas to explore this beautiful marvel. And just in case you need more convincing, here are a few videos:
Comments
comments