Gastronomic Log: Vegetarian Recipe
Whether haute cuisine, culinary art or love for food; gastronomy plays an important part for world travelers seeking to experience a new culture through its flavors and traditions. Maître Cuisinier de France, Chef Michel Mustière – who leads the collection of restaurants and fine dining experience at Velas Resorts – seems to understand this premise perfectly.
He has recently launched a new project involving twenty or so chefs under his command, to interpret, yes, interpret, culinary creations which are authentic works of art (a delight for the eye!) while providing a unique dining experience.
This new proposal from Chef Mustière brings us one of the best vegetarian recipes by Chef Roberto Sierra, Chef of gourmet restaurant Frida at Grand Velas Los Cabos, which we are pleased to share with you today.
Sun & Life
Ingredients:                                                                                                                               
40 g carrots

50 g baby carrots

80 g butternut squash

60 g yellow pattypan squash

80 g baby zucchini

60 g white asparagus

30 g asparagus

40 g baby corn

80 g baby beets

30 g rain mushrooms  

5 g microgreens

5 g edible flowers

10 ml virgin honey

20 ml white wine

15 g powdered olive oil

5 g salt

3 g white pepper

2 g thyme
Preparation:
For the vegetables
Peel the baby carrots, butternut squash and beets. Slice diagonally and sauté with the baby zucchini, green and white asparagus, mushrooms and baby corn. Add salt and pepper to taste, along with a touch of white wine (season the butternut squash with thyme and powdered olive oil).
For the carrot purée
Peel the carrots and and boil them whole. Once cooked, blend with a little honey and vegetable broth until puréed.  
To plate
Spread the carrot purée on plate and top with an arrangement of the sautéed vegetables. Decorate with flowers and microgreens.  
We are sure you'll enjoy this delicious vegetarian recipe.
Bon appetit!
About Chef Roberto Sierra: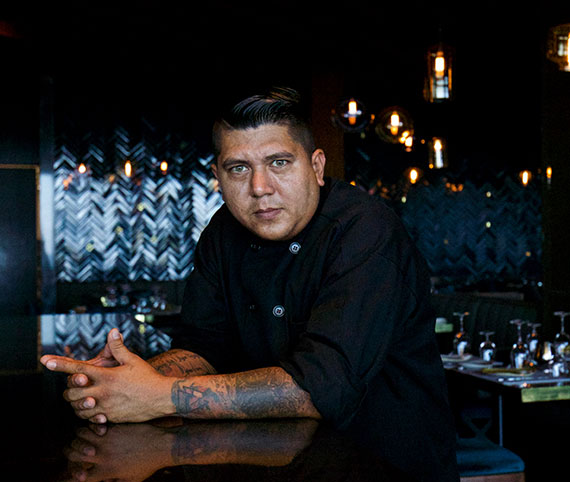 The eldest of three siblings, Chef Roberto Sierra was born in Zihuatanejo, Guerrero. His passion for hospitality was inherited from his father, and his love of cooking from his mother and grandmother, starting when he played at making corn tortillas.
He studied at the Hotel Presidente, meeting several chefs who would become his mentors. Sierra has developed his talent in countries including Cuba, Costa Rica, Panama and Venezuela, where he exhibited Mexican cuisine in an international festival.
He worked in hotels such as the Hilton, Meliá, InterContinental, and even served as Executive Chef at Bel Air resorts, before returning to his home state 10 years later to lead the Hotel Encanto Acapulco to becoming the best hotel in its category.
In 2015, he began working at the Princess Mundo Imperial. Afterwards he became part of the culinary team in Grand Velas Los Cabos where he transmits his passion for gastronomy in each dish as the Head Chef of Frida restaurant at the resort, specializing in Mexican haute cuisine.
By Vanessa Martínez del Río.
Comments
comments