Tamales in Los Cabos Seduce Foodies on National Tamale Day
Unwrapping a tamale is one of life's great treats, steam wafting the sweet scent of masa, chiles, & meat into your face before you can even say "mmmmm…" There's no better time to sample the tamales of Los Cabos than National Tamale Day (March 23rd).
Savor National Tamale Day with Homemade Tamales in Los Cabos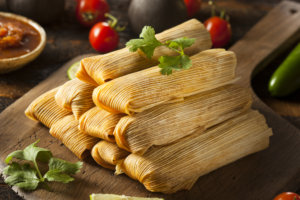 Mexican cuisine has countless token dishes, iconic culinary creations that could have come from no place else in the world. Of these, few are as beloved across the country and around the world as the tamal, or tamale. Literally every city in Mexico honors the dish with distinctly local versions and traditional takes on the classic: masa (corn dough) stuffed with filling, wrapped in cornhusk or banana leaf, steamed for more than an hour. In Los Cabos, tamales are everywhere, especially on National Tamale Day (March 23rd) – from home cooks selling perfection out of coolers on the beach to streetside vendors and family restaurants.
A Brief History of Mexico's Most Treasured Dish
Tamales date back to roughly 8,000 BC, when they served as portable rations for armies, hunters, and explorers among the Mayans, Aztecs, and their predecessors. According to history, the Aztecs even served tamales to the Spaniards when they first arrived, inspiring them to bring samples back to Europe as proof of American civilization.
Today's Tastiest Variations & When They're Eaten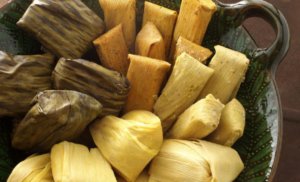 The ritual of making tamales is a treasured tradition in all parts of Mexico to this day. Families spend hours upon hours crafting hundreds at a time for holidays like Las Posadas (December 16-24th), Christmas (December 25th), Dia de la Candelaria (February 2nd), and Mexican Independence Day (September 16th). Some of today's most common variations include:
Ancho Chile Beef
Red or Green Chile Pork
Chicken or Turkey Mole
White Fish
Squash
Beans
Tamales Sordos (no filling)
Roasted Chiles & Cheese (chile con queso)
Tamales de Dulce (sweet, filled with dried fruits, honey, or chocolate)
Where to Find the Best in the Baja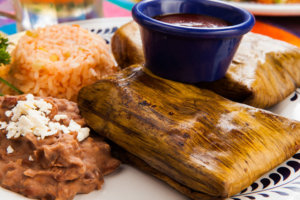 Watch the street and beach for people serving them out of massive pots, often no more than $1USD apiece. Among the most famous places to find them are:
Artesano's (Highway 1 & Camino al Tezal) – Saturdays, 11am-2pm. Look for Senora Carmen selling her steaming hot masterpieces.
Tabasco Beach (Constituyentes, btwn Camino Real & the water) – Wednesday, Friday, Sunday. Look for Lupe. His tamales are legendary.
Tamales Doña Nina (Plaza Mijares) – Thursdays through June, 5-9pm. Find her stand at the back of the plaza during the weekly Art Walk.
Los Cabos Organic Market at Pedregal (Camino del Colegio 225) – Wednesday & Saturday, 8am-1pm. Maria's are among the best of the best.
Pancho's Restaurant (Hidalgo & Emiliano Zapata) – Traditional eatery with live music and a wonderful trio of Tamales Oaxacueños.
Comments
comments