Take a Los Cabos Whale Watching Tour Before the Season Ends
Nothing puts life into perspective quite like watching a 90,000lb humpback whale jump out of the bright blue sea. Book your Whale Watch Cabo tour before the season ends on April 15th for guaranteed sightings, free photos, & 2.5 hours on the water.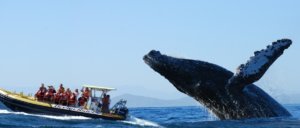 Book a Majestic Los Cabos Whale Watching Tour
Recommended Guides:
Whale Season:
Now through April 15th
Prices:
Ages 13+ – $89
Ages 6-12 – $59
Vacations are all about recalibrating, putting everyday life into perspective by escaping its grind for a little time in paradise. Couple the laid-back vibe of a Baja getaway with a few hours of whale watching in Los Cabos, and you're outlook on everything is sure to change. Seeing a 52-foot, 90,000-pound creature breach the Sea of Cortez in jaw-dropping splendor has a way of humbling us all – not to mention the pods of dolphins, sea lions, turtles, and exotic birds that are sure to color your time on the water. Humpbacks, grey whales, and six other species only fill our waters December through mid-April, though, so be sure to book your memories today.
What's Included?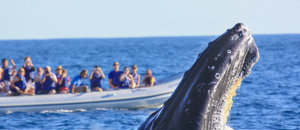 When you tour with Whale Watch Cabo, sightings are 100% guaranteed. If for some reason they can't find a whale (their success rate is the highest in the region), you're invited to take another tour free of charge. Other features include:
Knowledgeable Marine Biologist Captain
Professional Photographs via DropBox
Onboard Hydrophone for Whale Songs
Smallest Group Sizes in Los Cabos
5 Hours on the Water
Choose the Boat that's Right for You
Strictly for ages 13 and up, the Zodiac raft is faster, expanding the radius within which your captain can find creatures. Families with younger children or passengers who may not be as agile should opt for the more traditional covered boat. Both are the same price, each sailing daily (Zodiac – 8am, 11am, 2:30pm; Traditional – 8:30am, 12pm, 3pm).
A Few Essentials to Remember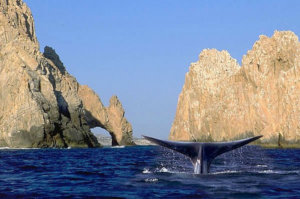 If you wish to take pictures of your own, don't forget your camera, along with essentials like sunglasses, a hat, sunscreen, and water.
Photo credits: Cabo Adventure.
Comments
comments