Have you ever had a wow moment while staying in a hotel?
In luxury travel, amenities such as welcome beverages or designer toiletries are not enough anymore to pamper guests.
For the check-in, luxury hotels go the extra mile to make the process as smooth and enjoyable as possible, some offer complimentary massages at the lobby and unique amenities. Such as the resort Grand Velas in Los Cabos, a stunning ocean view welcomes guests while they are greeted with Veuve Clicquot Champagne and molecularly-created fruit caviar where guests can choose from three flavors: strawberry, mango and Chambord. This amenity is the hallmark of the Grand Velas brand, as the sister resort located in Riviera Nayarit offers champagne with grapes as a welcome amenity. An experience that will make you feel like a royal!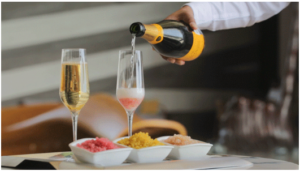 The butler service has been indispensable in the world of hospitality since the beginning of the hotel industry, but in some hotels, they take it to the next level with services that go beyond your dreams. From a fireplace butler to light the logs while serving hot chocolate or a tanning butler to help you apply sunscreen or spray you Evian water by the pool like in the hotel Ventanas al Paraiso; to a book butler to select your readings, and if that isn't enough, a record concierge to choose your perfect soundtracks!
Let's say you're traveling with your furry friends, wouldn't you be amazed and grateful to know that some resorts offer doggie room service, a pet Spa, a pet concierge to walk your dog, and amenities such as toys and treats. The resort at Pedregal offers plush bedding and food and water bowls to pamper your pet.
As you can see, sophistication is always renewed in these places to provide travelers with unforgettable experiences. Have you experienced any of these over-the-top amenities when traveling? Share your experiences with us!
By Luz Cullison
Comments
comments