Blue Flag, taking care of our planet
This year the Blue Flag program celebrates 35 years of providing education to protect the environment, and we celebrate the inclusion of Grand Velas Los Cabos in the list of certified beaches with this important recognition.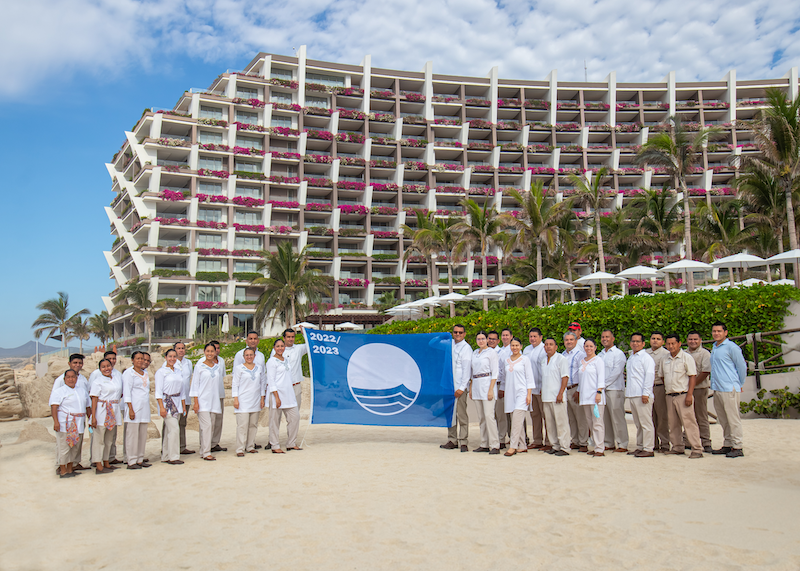 What is Blue Flag?
This recognized certification was created in 1987 by the Foundation for Environmental Education (FEE for its acronym in English) with the aim of promoting the sustainable development of the sea and freshwater areas under four main criteria: water quality, management, and environmental education and security.
Today more than 4,500 beaches, ports, and ecotourism boats contribute in a concrete way to the objectives of Blue Flag to promote sustainability in the tourism sector.
The bearers of this badge must meet and maintain a series of strict criteria, among which are:
Education – They are committed to carrying out educational programs that connect society with their environment and encourage them to learn more about their care.
Information – Share data about local flora and fauna.
Surveillance – They monitor compliance with the standards established by Blue Flag.
Security – They guarantee the implementation of security measures at all times, to take care of the environment, collaborators, and visitors.
How does Grand Velas Los Cabos contribute to Blue Flag's goals?
Since its opening, this resort has implemented various protocols to take care of the planet and the community and keeps its beach in optimal conditions thanks to the care it puts into its maintenance and cleanliness.
A permanent crew manually cleans up the larger debris and debris, then uses sieves made from recycled material to sift through the sand and separate the smaller debris. During the nesting and birthing season of turtles between the months of August and December, Grand Velas Los Cabos follows the guidelines of the Department of Ecology and Environment for the preservation of this species.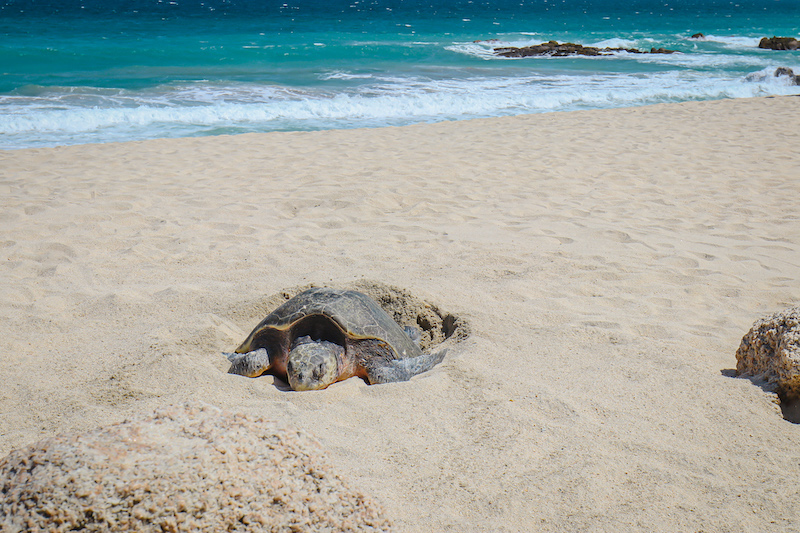 The resort is preparing a program of environmental education activities so that the little ones learn in a didactic way about recycling and caring for the ocean, and learn interesting facts about the marine mammals that inhabit the coasts of Baja California Sur and their conservation.
Other green practices of Grand Velas Los Cabos include:
Waste separation.
Recycling of burned cooking oils with a supplier to convert them into biodegradable fuel.
Support local recycling programs in charge of processing glass, plastic, metal, cardboard, and toxic material.
Donation of organic waste to local farms.
Creation of natural fertilizers for your gardens through compost.
Implementation of plastic reduction programs for both guests and employees.
Operation of self-sufficient reverse osmosis desalination plants.
Use of solar panels to preheat the water.
Reduction of water use throughout the washing process with an on-site treatment plant.
Reduction of polluting emissions and energy consumption with state-of-the-art technology in its air conditioners.
Congratulations to Grand Velas Los Cabos for this important recognition!
To learn more about the initiatives held by Blue Flag, visit their official site.
Comments
comments