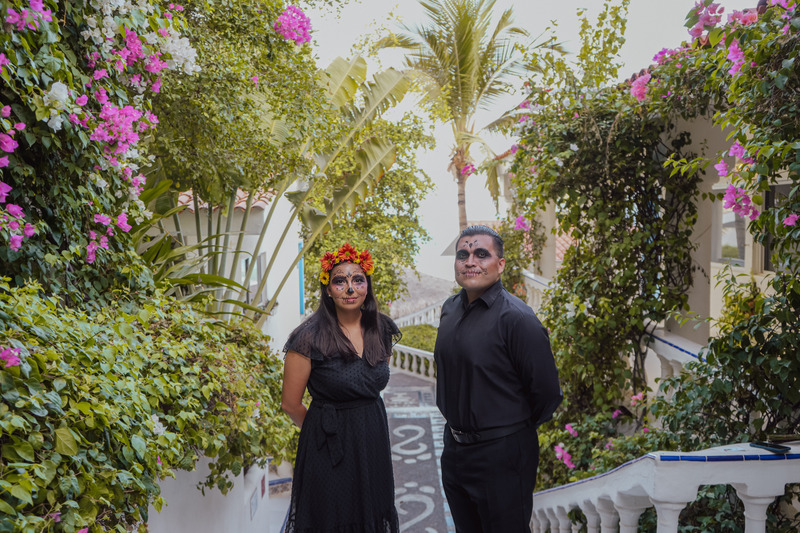 Throughout history, themed weddings have been celebrated in various ways worldwide, with details that reflect the diversity of cultures and the richness of traditions. Every society has contributed its own customs and rituals, infusing each special occasion with a distinct and remarkable character.
In Mexico, these celebrations are a sensory delight, where joy and deeply rooted traditions shine through in every detail. The vibrancy of Mexican culture is on full display.
The Magic of the Escalonada
Mar del Cabo, an exclusive adults-only boutique hotel in Los Cabos, has taken the art of celebration to a new level by drawing inspiration from the beloved "callejoneadas" of San Miguel de Allende. These deeply rooted traditions involve the bride, groom, and guests parading joyfully through cobblestone streets, tequila in hand, alongside towering puppets known as "mojigangas."
Picture beginning your wedding by descending from Mar del Cabo's lobby to the beautiful beach while a live melody and the sound of the waves of the Sea of Cortez envelop the atmosphere with happiness. Along this picturesque journey, you'll encounter stations offering cocktails and authentic Mexican culinary delights. The hotel has made every effort to recreate the authenticity of these Mexican processions, allowing participants to sing, dance, and revel in the festivity in a setting adorned with colorful Mexican tiles and beautiful bougainvillea.
Personalized Escalonada Experiences
What makes the Escalonada at Mar del Cabo truly unique is its incredible flexibility. You can choose from various themes to craft a wedding that suits your personal style. Are you drawn to the idea of celebrating the Day of the Dead? The hotel can transform your special day into an authentic, vibrant celebration with traditional touches. From dishes like "castilleja," made with pumpkin and ricotta cheese, adorned with habanero ash mayonnaise, to exquisite oysters from La Baja, garnished with xoconostle vinaigrette, your palate will embark on a journey through the rich tapestry of Mexican flavors.
To pair with these delights, you can't miss the Catrina cocktail, prepared with white tequila, orange juice, lime juice, cinnamon syrup, cempasúchil, red wine, and brown sugar.
So, if you're planning a themed wedding and desire it to be filled with tradition, celebrate your big day in the style of an escalonada at Mar del Cabo!
Comments
comments