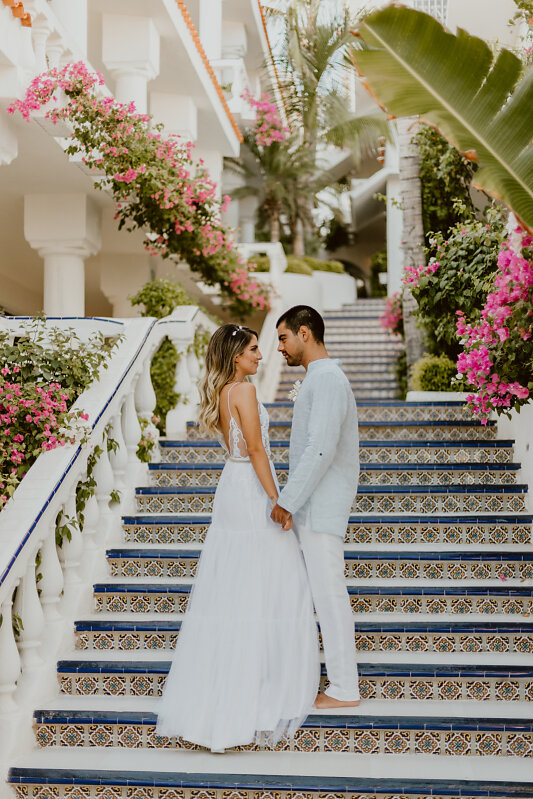 This wedding experience will take you on an unforgettable journey through the natural charms of Los Cabos. From the beginning of your celebration to the last day, you will immerse yourself in a world of beauty, tradition, and exciting adventures.
Your wedding is about to come true with this series of experiences we offer at Mar del Cabo, both for you and your partner, as well as for your guests. Let's get started!
Day 1 – Sunset Sail
Imagine starting your celebration with a romantic sunset sail. On board, a tequila expert will share the history and process of this iconic beverage, followed by a delicious tasting. You will savor authentic Mexican dishes while enjoying cocktails and snacks with panoramic coast views. The sea and the sun will witness this charming beginning.
Day 2 – Beach Bonfire
On the second day, continue the celebration with a beach barbecue and a romantic bonfire under the stars. The flames will add a magical touch to the night, while live Mexican music creates a vibrant atmosphere to enjoy with your guests. Additionally, you'll have fun with a mini-fair featuring traditional competitions and a station of delicious churros.
Day 3 – Rehearsal Dinner
There's nothing like indulging in gourmet delights at the Monte Cardón restaurant while admiring the Sea of Cortez on one side and the majestic mountains of the Sierra Madre on the other. To complement the culinary experience, you will enjoy two hours of canapés and hors d'oeuvres with flavors reflecting the rich culinary heritage of the region.
Day 4 – Your Big Day
The hotel's wedding team draws inspiration from the natural beauty of Los Cabos to design every aspect of your big day. From decorations with local flowers that reflect the colors and textures of Baja California's landscape to Mexican touches in the details, your wedding will be a unique experience. Additionally, all guests will be offered refreshing popsicles, perfect for the hot days in Los Cabos.
Day 5 – Jeep Expedition
After saying "I do," it's time to raise the excitement levels with a Jeep expedition through stunning trails. You'll stop at a local restaurant to savor authentic Mexican cuisine. Could you have imagined continuing the celebration amidst rocky landscapes while challenging the coastal winds?
Day 6 – Back home
After these incredible days with your partner and loved ones, the resort will offer a private airport transfer service for your convenience.
Each day of this experience will bring you to new heights of happiness in the presence of your partner, family, and friends. If you're seeking a celebration where the enchantment of romance seamlessly blends with the natural beauty of the destination, Mar del Cabo is the perfect choice.
Comments
comments